ASEAN Accountancy Conference on Sustainability (October 8, 2022)
AFA continues to push for sustainability agenda in ASEAN

AFA together with the Federation of Accounting Professions (TFAC) successfully organised the ASEAN Accountancy Conference on Sustainability in Bangkok on October 8, 2022. The conference was attended by 500 participants in Bangkok, with hundreds joining virtually.
Among the key prominent guests sharing their perspectives on sustainability were Dr. Tae-Young Paik (Member, ISSB), Esther An (Chief Sustainability Officer, City Developments Limited), Sajjeed Aslam (Regional Lead, Public Affairs for the Asia Pacific Region, ACCA), Mark Babington (Chair, Sustainability Working Group, IESBA and Executive Director, UK Financial Reporting Council), and Richard Spencer (Director of Sustainability, ICAEW).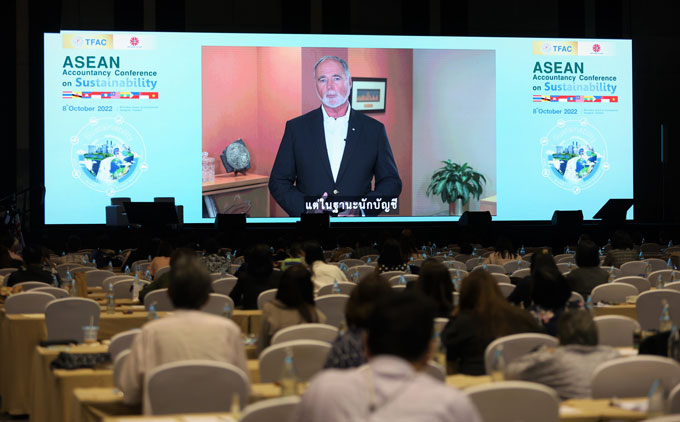 Kevin Dancey (Chief Executive Officer, IFAC) in his message highlights the importance for the accountancy profession to take proactive steps to enable sustainable change, by advocating for smart policy and regulation, demonstrating sustainability-related skills and competencies, promoting climate reporting, and championing integrated mindset. Referring to IFAC's Call for Action – Time of Action on Sustainability: Next Steps for the Accountancy Profession, accelerating sustainability and avoiding regulatory fragmentation will be key in enabling high-quality and decision-useful sustainability information. "Collaboration between stakeholders in the region to ensure that the region would not be left behind in the global discussion on sustainability will be important" as said by Voravit Janthanakul (President, AFA).
The conference was organised as part of AFA's sustainability agenda for 2022 and fully supported by our International Platinum Partners, Association of Chartered Certified Accountants (ACCA) and the Institute of Chartered Accountants in England and Wales (ICAEW).
Read our full Release: AFA_Release_ASEAN Accountancy Conference on Sustainability (October 8, 2022)
Re-live the discussion and watch a recording of this webinar here.

#afaaccountants #aseanaccountants
Category: ASEAN Accountants | Post on 21 Oktober 2022