SMEs & Sustainability Webinar (May 12, 2022)
AFA provides a platform for SMEs and SMPs to talk about sustainability
AFA together with the Association of Chartered Certified Accountants (ACCA) organised a sustainability webinar focusing on Small and Medium Enterprises (SMEs) and Small and Medium Practices (SMPs). The webinar aims to support SMEs and SMPs in the region to understand international developments and drivers (risks and opportunities) for sustainable practice, as well as discuss concrete steps and tools that can be taken to advance the sustainability agenda.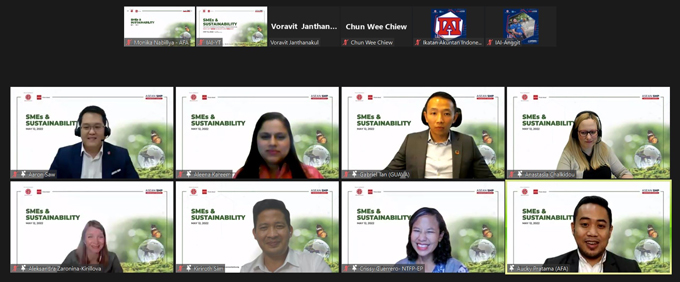 Facilitated by Aaron Saw (Head of Policy and Technical, ACCA Maritime Southeast Asia), an international expert consisted of Aleena Kareem, FCCA (Co-founder, SHAOOR Trainings and Consultancy, Pakistan), Anastasia Chalkidou, FCCA (Director/ Co-founder – Quantum BITS, Greece), Aleksandra Zaronina-Kirillova (Head of SME Professional Insights, ACCA Global), Crissy Guerrero (Senior Adviser for Strategic Programs, NTFP-EP, and Adviser, PARARA Indonesian Ethical Store), Gabriel Tan (Director, Guava Amenities, Singapore), and Chankiriroth Sim (Founder & CEO, Banhji, Cambodia) highlighted the importance of embracing sustainability as a mindset and potentially a competitive advantage.
The webinar was attended by around 550 participants from around the region.
Read our full Release: AFA_Release_SMEs & Sustainability Webinar (May 12, 2022)

Re-live the discussion and watch a recording of this webinar in our YouTube page.

Download the presentation slides for the webinar: AFA_SMEs & Sustainability Webinar (May 12, 2022)_Presentation (ACCA)


#afaaccountants #aseanaccountants