ICAEW & AFA Looks at the Future of Work
ICAEW & AFA Hosted Webinar on the Future of Work in the Post-Pandemic Era
ICAEW (the Institute of Chartered Accountants in England and Wales) and AFA (the ASEAN Federation of Accountants) jointly hosted the ICAEW-AFA Bitesize Webinar on the Future of Work on 22 February 2021. Close to 370 participants from Singapore, Indonesia, Malaysia, Hong Kong and the South-East Asia region tuned in to the webinar to hear from industry experts and participated in the survey on their outlook on the future of work.

We were honoured to have the following industry leaders on our panel during the webinar:
Mark Billington, ICAEW Regional Director, Greater China and South-East Asia
Bonnie Tham, Head of People & Support, BDO Malaysia,
Tay Woon Teck, Managing Director, Business Consulting, RSM Singapore,
Sarah Foo, Chairman, CA ANZ, Hong Kong Overseas Regional Council 2021 and ASPAC Technology and Automation Lead – Global Indirect Tax Services, KPMG


Mark Billington, ICAEW Regional Director, Greater China and South-East Asia, officiated the session by sharing findings from a recent ICAEW survey of chartered accountants from more than 50 countries around the world, which found that almost all businesses expect working life to be different in the future, compared to pre-pandemic times. Mark was joined by other industry leaders for an insightful panel discussion on the benefits and challenges of the new working model moving forward.

The session also engaged participants in a post-webinar survey, which gathered responses on how they viewed the future work landscape. In line with the results from the international survey by ICAEW, the post-webinar survey found that:
More than nine in ten respondents believed that working life would continue to look different after the pandemic (92 percent),
Almost eight in ten respondents indicated that their work life had been severely impacted by the pandemic (79 percent).
The top three factors which positively impacted respondents' work life were an acceleration in digital transformation (said by 87 percent), flexible working hours (said by 74 percent) and an increase in remote working (said by 66 percent).
However, respondents also highlighted significant challenges in coping with new work arrangements, such as difficulties in engaging new clients and building relationships (said by 61 percent), maintaining staff morale (57 percent) and maintaining existing clients and relationships (54 percent).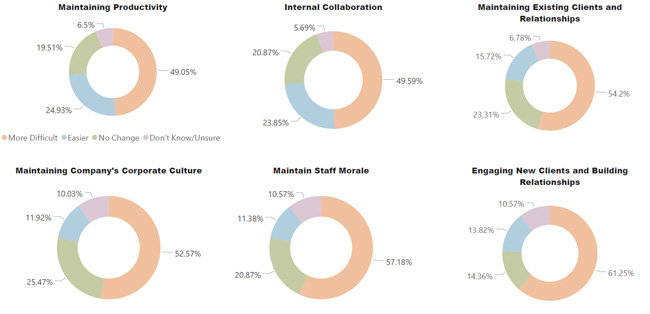 Challenges in coping with the pandemic
These sentiments were echoed during the panel discussion, where the panellists also touched on the challenges of on-boarding new talent, increasing productivity while reducing burnout amongst employees and how to maintain key touchpoints and strong communication with clients.
While remote working has brought about certain positive impacts, such as the acceleration of organisations' digitalisation efforts and flexible working arrangements for their employees, businesses will need to consider these benefits together with their challenges in the long term, especially in areas where face-to-face interaction remains crucial. The results of our survey underline the need for more initiatives in mentoring, guidance and formal training for new talent, as well as new ways of engaging virtually both internally and externally," said Mark Billington, ICAEW Regional Director, Greater China and South-East Asia. "At the end of the day, it is important to remember that organisations are all about people, and the success and well-being of both are very closely intertwined.
For AFA, the webinar serves as another platform for ASEAN accountants to get in touch with a current issue that will continue to affect their ability to remain relevant and provide values to their clients. Many Professional Accountancy Organisations in the ASEAN region recognise how the pandemic is changing their engagements with members and stakeholders, further highlighting the need to cope and adapt to emerging challenges at an even faster rate than ever. Regional collaborations under AFA's facilitation as a regional body are key for many stakeholders of the ASEAN accountancy profession to move forward and stay relevant in the post-pandemic era.
In the wake of a new remote reality and a rapidly evolving business landscape, it is important for accountants to step up as trusted advisors and serve as a force for good, by guiding businesses and organisations on how to navigate the new normal for work, address going concern and drive the next phase of inclusive and sustainability growth," said Aucky Pratama, Executive Director, AFA. "In many ways, this all starts with adopting a people-first approach on how to cultivate an efficient and fulfilling digital working experience while addressing certain pain points like the lack of face-to-face communication with new talent and clients.