AFA-ICAEW Webinar: Has COVID-19 Changed Work Forever
AFA and ICAEW discuss how COVID-19 is changing the future of work

AFA together with ICAEW co-organised the first bitesize webinar for 2021, presenting an opportunity to look at ICAEW's findings and hear from prominent Chartered Accountants in the region on their experience working under the pandemic. The discussion looks at how remote working is impacting human interaction and the way businesses are addressing new talent, as well as employees' well-being and mental health as an important issue that many may fail to address.

Around 430 participants joined the session via the dedicated Zoom platform, with more engagements expected via the session recording available in AFA Facebook page for further viewing and sharing.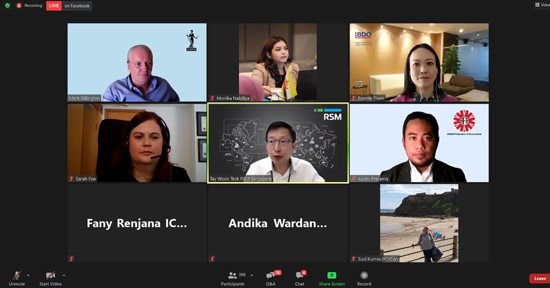 "We are driven by the challenges brought by the pandemic to adapt and transform into a new professional who is agile and future-proof, leveraging technology to stay connected with our stakeholders and continue providing values to our clients. I believe these changes are here to stay, as they define the "new normal" for all, including our accountancy profession. This webinar is an excellent example of our collaboration with ICAEW in ensuring ASEAN accountants are provided with access to current discussions and resources." according to AFA President, Wan Tin.

AFA would like to thank ICAEW as the co-organiser of this webinar, as well as ISCA and CA ANZA for their support.
Please click on the following link to download the event Release:

#afaaccountants #aseanaccountants